With one in 12 people suffering from asthma, Respiro is setting out to make treating and living with the condition easier for all involved using artificial intelligence. This Arm-powered smart device fits on all brands, sizes, and types of inhalers, and the story in the above video is just one among millions when it comes to the lives it has the power to change.
My son has had asthma since he was three years old. Ben is now 10, and during that time, it's been fascinating to experience the challenges associated with asthma technique and medication from a parent's perspective.
For example: it's advised that you take your inhaler at morning or at night – but with children, they are tired or groggy at these times and don't always inhale the medication properly. We have questions such as, "Did my wife already give him some dosage?" Or, "What effect did the cough have just after taking the medication?" It's often difficult to tell whether one prescription results in better compliance and respiratory outcomes than another.
The humble mechanical inhaler is a marvelous device that can treat the condition. But as both a parent and an engineer, you can't help thinking how much better it could be.
Working in Arm, it's all too obvious to see the level of low-power miniaturization being deployed in all sorts of IoT applications, from smart homes to logistics. It's also interesting to look around my son's bedroom and see the smart toys and wearables that have electronics embedded into them.
So, with this technology all around us, improving our everyday lives – could technology be used to help my son's asthma?
Making the inhaler 'smart' with embedded machine learning
Amiko develops advanced sensor technologies and artificial intelligence (AI) powered digital health solutions that can assist healthcare professionals and empower patients to achieve better outcomes.
Its flagship product is Respiro, a connected platform that offers connected devices, applications and analytics to upgrade respiratory care.
Respiro includes smart add-on modules designed to fit the inhalers that patients are already using. Respiro sensors are the world's first commercial devices to effectively monitor inhalation technique and frequency, capturing parameters such as inhalation flow rate, flow acceleration, inhalation volume, inspiration time, as well as the patient's handling of the inhaler.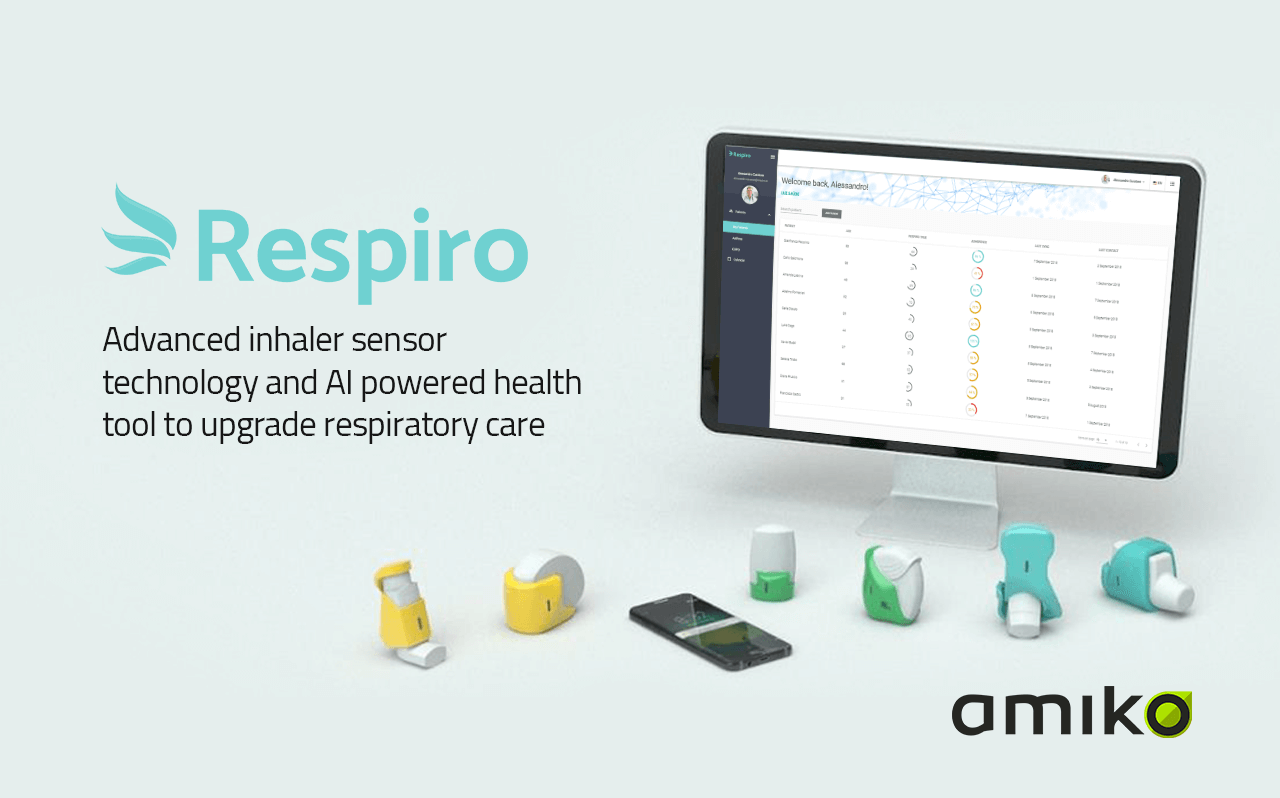 How Respiro works
The sensors collect inhaler use data without changing the use of the inhaler or disrupting the medication delivery pathway. They are currently compatible with market-leading inhalers, such as NEXThaler® (Chiesi Farmaceutici), Ellipta® (GlaxoSmithKline) and Spiromax® (Teva Pharmaceutical Industries).
And at the heart of the device, deep inside, lies an Arm Cortex-M processor. Why? The processing power of the Cortex-M processor family enables artificial intelligence and connectivity to be deployed in the sensor, and allows it to run a real-time machine learning algorithm. Without this machine learning technology, it would not be able to do advanced monitoring and insight gathering, such as measuring the inhalation lung capacity, flow rates, and technique, for example.
The Amiko product demonstrates the advantages of moving artificial intelligence to the end device, integrated within a medical sensor. With machine learning (ML) at the core, there is no need to wait on a backend infrastructure for data processing of detailed sensor information. When the user triggers the medicine, the breath data pattern is instantly recognised providing low latency, private user feedback.
The machine learning capability is delivered in an energy-efficient manner, due to the low power consumption of the microcontroller core and the embedded machine learning software implementation, reducing bandwidth to the cloud and enhancing the data delivered into valuable compliance and lung function information.
The result: a solution that fulfils the requirements of optimal power consumption and low sensor production cost, with the flexibility to seamlessly add new features to deliver ever more reliable and detailed results.
Empowering clinicians with data at their fingertips

Respiro sensors are bundled with an app that the patient installs on their smartphone. The app receives data generated by the sensors via Bluetooth Low Energy, and offers the user simple metrics and personalized feedback for a more effective management of their condition.
Healthcare professionals are equipped with a suite of professional-oriented applications, providing remote monitoring tools, AI-enabled therapy suggestions and data analytics. They can be accurately and rapidly informed, to help them make smarter decisions and personalize treatments to the needs of the patients.
Amiko Respiro sensors are a great showcase of the power of AI to improve healthcare. The deployment of these powerful algorithms on energy-efficient, Arm-based microcontrollers, at low cost, allows patient and doctor to effectively treat their conditions and improve the quality of lives. Lives like my son's.
Asthma 2.0 – Smarter inhalers for connected kids
In the world of IoT, it is often said data is the new oil. Amiko is paving the way in healthcare by using accessible and low-power technology to collect data and provide support to families, children and clinicians in a real-world setting.
Asthma should not hold people back. Yet it is. The World Health Organization reported that 250,000 annual deaths are attributed to the asthma disease.
Imagine what technology can do to prevent even a fraction of those fatalities.
How many children have the same challenges as Ben in taking his medication? How would outcomes be affected if the inhaler was made interactive and fun, and how can this data be used to improve health outcomes for all 300 million asthmatics?
I'm pleased to see my children growing into this new, connected healthcare system and look forward to the day when this technology is standard with every respiratory medication.